Redfrog & McToad's Grub-n-Pub Story
How we got our name RedFrog & McToad's Grub -n- Pub
All together this name has a meaning yet each part carries its own piece.

Our unique pub's name originated from two different countries. Bohemia (Czech Republic) and Ireland, home of the original pub . We have tried to incorporate both to bring our customers the ultimate in "grub-n-pub dining."
The name "Redfrog" came from a pub called "The Green Frog" in Prague, Bohemia in the 1600's. As the story goes, the Green Frog was the only pub in Prague that would allow the flame red-hooded executioners a meal and a pint or two after their grisly duties. They were not allowed in the main pub, but were forced to partake alone in a separate red room at the back of the pub. Thus, the name of the pub became "The Red Frog."
The name "McToads" represents the Irish influence in our pub and is aptly named since the Irish are known for their great pubs that are filled with grub, pints and ales, but most of all friendship. Thus, we have tried to recreate the old "Irish pub" atmosphere with the infusion of the red and green colors stemming from the "frog" and the "toad."
"Grub-n-Pub" is an electric mix of sports memorabilia, history, pop culture, and music which is evidenced by our artful décor. There are 25 TV's available for viewing all the great sports events and/or playing games throughout the pub. We have created many regional foods to our menu such as the Midwest Style giant pork tenderloin which originated from the famous weiner schnitzel that the Eastern European immigrants brought over when they settled in the Midwest. We have put together an amazing corn beef brisket recipe that makes excellent Rueben's and Corned Beef sandwiches. Throughout our menu we have blended finger foods, signature sandwiches, salads, pasta's, seafood and house specialties such as our mini osso bucco's, together with daily steak and fresh seafood as well. We look upon ourselves as a "Casually Cool" eating and drinking establishment with a full "GRUB-N-PUB" menu.
Lastly, the greatest meaning of "Redfrog & McToads" is the relationship of the two together. Redfrog is the cool dude, athletic jock, a real "GQ" kind of guy, where McToad is laid back, never has a bad day and is borderline nerdy. However, together they become a unique blend, best buddies that enjoy hanging out together. We all have friendships just like theirs, so our goal was to create an atmosphere where you can bring your friends and family, kick back and just enjoy.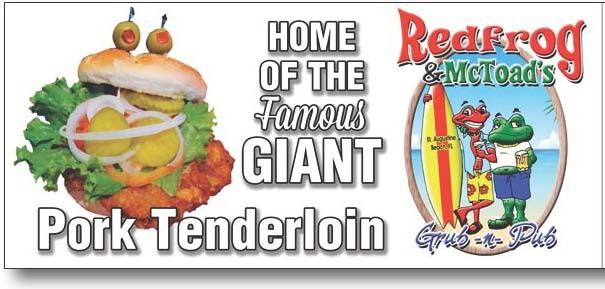 At Redfrog & Mctoad's located at 5545 A1A South. For reservation call 904-814-8430.